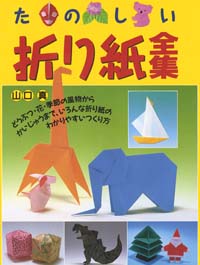 Tanoshii Origami Zensyu
Diagrams : 83 models : Animal, Birds, Bugs, Flower, Vehicle, Seasons, Action Origami/Toys, Clothes, Zodiac, Ultraman, Gamera, Godzilla
  Author:Yamaguchi Makoto
 Publisher:SHUFU TO SEIKATSU SHA CO.,LTD. (July 1997)
 Language : Japanese
 Size:128 X 182mm / Page : 290
 ISBN-10:4391120313
 ISBN-13:978-4391120318
*You can get autograph by Yamaguchi Makoto if you hope. Please contact us when you order.

---
About international shipping
Currently, some countries have temporarily suspended the acceptance of postal items and restrictions have been placed on mailing.
Before placing an order,
please check the mailing status of your country from here.
*The prices including shipping charges have been set and renewed for each zone in accordance with the increase in international postal charges effective October 1, 2023.
The zones and each delivery method are as follows
Shipping and Handling fee included.
---

Part1 Animal and Aquaticlife
Cat
Panda
Koala
Elephant
Giraffe


Bear
Penguin
Sea otter
Dolphins
Filefish


Part2 Bird
Duck
Aparrow
Swan


Eagle
Crow
Crane


Part3 Bugs
Cicada
Butterfly
Grasshopper
Snail


Beetle
Stag beetle
Dragonfly



Part4 Flower
Hydrangea
Morning glory
Bell flower
Lily of the valley
Violet
Tulip


Lily
Water lilies
Carnation
Cyclamen
Cosmos



Part4 Vehicle
Yacht
Bamboo-leaf boat
Car


Airplane
Space shuttle



Part6 Seasons
Kadomatsu
Hina-doll
Samurai Helmet


Santa Claus
Christmas Tree
Star


Part7 Action Origami / Toys
Flapping butterfly
Hopping flog
Waterbom
Saru no kinobori


Koron Koron
Flapping bird
Toy snake


Part8 Clothes
Shirt
Pants
Skirt
Pleated skirt
Dress
Sailor
Apron


Polo shirt
Raincoat
Boots
Umbrella
Handbag
Face
Hands and Legs


Part9 Zodiac
Rat
Ox
Tiger
Rabbit
Dragon
Snake
Horse
Sheep
Monkey
Chicken
Dog
Wild boar



---

■Ultraman
Ultraman
Ultraman Zearth
Pigumon







■Gamera
Gamera





■Godzilla
Godzilla