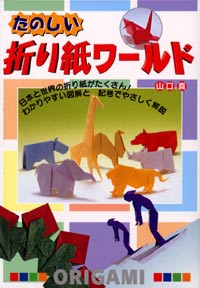 Tanoshii Origami World
Diagrams : 86 models by Origami creators of all over the world.
 Author:Yamaguchi Makoto
 Publisher:SHUFU TO SEIKATSU SHA CO.,LTD. (December 2000)
 Language : Japanese
 Size:148 X 210mm / Page : 240, and full collor page : 8
 ISBN-10:4391124475
 ISBN-13:978-4391124477
*You can get autograph by Yamaguchi Makoto if you hope. Please contact us when you order.

---
---
---
We resume an international shipping by "Airmail" because still SAL shipping is suspending.
However, still some countries(USA, Canada, Australia etc...) has not accept Airmail items yet. so please confirm the following page whether your country accept the Airmail or not before ordering.
Service availability by country(Japan post)
---
CONTENTS
        
●Module origami
Mette Ring 1 by Mette Pederson
Mette Ring 2 by Mette Pederson
Spiky-O by Jose Meeusen


Andrew Ball 1 by Andrew Bolrotz
Andrew Ball 2 by Andrew Bolrotz
Module"Hearts", Shoes by Katrin Shumakov
Nina's Kusudama by Nina Ostrum

●Action Origami / Toys
Flapping Butterfly by Deg Farelly
Catapult by Peter Budai
Drinking Bird by Eric Kenneway
Butterfly Ball by Keneth Kawamura

Spring into Action by Jeff Beynon
Paper Magnum by Makoto Yamaguchi
Candy Box by Janet Yelle


●Origami of useful items
Change purse by David shall
Lidded Box by Philip Shen

Decorative Card by Katrin Shumakov
A Heated Ring by Jeremy Shafer

●Origami for life
Table by Philip Shen
Book by Martin Wall
Geta by Yoshio Tsuda
Folding Knife by Robert J. Lang
Allow by Ichiro Kinoshita

Sailboat Card by Shi-Yew(Sy) Chen
Mini Mortorbike by Seiji Nishikawa
Heart with Wing by Aldo Putignano
Light-Hearted by Wayne Brown


●Figure
Mr. Beard by Katsuhisa Yamada
Santa Claus by Jun Maekawa
Reading the Paper by Herman VanGoubergan
Dr. Shuweitzer by Eric Kenneway

Skier by Robert Harbin
Walking Man by David Brill
Skull by Takashi Hojyo


●Animals
Swan by Edwin Corrie
Happy, Good-luck Bat by Michael LaFosse
Scotie by Robert Neale
Pomeranian by Yasuhiro Sano
Cat by Jun Maekawa
Pika by Makoto Yamaguchi
Penguin by Hideo Komatsu
Sea Otter by Makoto Yamaguchi
A Seal on Rock by Martin Wall

Giraffe by Makoto Yamaguchi
Hippo by Makoto Yamaguchi
Elephant by Makoto Yamaguchi
Lionby Makoto Yamaguchi
Rhinoceros by Makoto Yamaguchi
Bear by Makoto Yamaguchi
Camel by Makoto Yamaguchi
Pettyceratops by Yoshihisa Kimura
T-Rex by Marc Kirshenbaum

●Insects
Butterfly by David Derudas
Dragon Fly by Makoto Yamaguchi
Mantis by Makoto Yamaguchi

Stag Beetle by Makoto Yamaguchi
Japanese Rhinoceros Beetle by Makoto Yamaguchi


●Flower
Bird Base Rose by James M.Sakoda



●Traditional Origami
House
Organ
Paper Cup
Box(Masu)
Squid Airplane
Navel Airplane
Yacht
Lotus Flower
Hydrangea / Morning Glory
Hina-doll
Samurai Helmet
Cicada
Butterfly
Balloon(Waterbom)

Camera
Trick Boat
Jamping Flog
Yakko-san
Sumo Game
Incense Box
Wooden Stand
Church
Crane
Crane Folding Wings
Treasure Boat
Iris
Flog