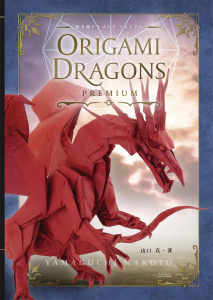 Origami Dragons Premium
Diagram : 15 types of dragon models froam around the world.
 Author:Yamaguchi Makoto
 Publisher:Socym Co. (July 2021)
 Language : Japanese
 Size:B5(182 X 257mm) / Page : 240
 ISBN-10: 4802612834
 ISBN-13: 978-4802612838
released on 3rd July 2021.
*You can get autograph by Yamaguchi Makoto if you hope. Please contact us when you order.

---
---
---
---
●CONTENTS
---
1 聖ジョージのドラゴン/Saint George's Dragon:作・オリオール・エステべ/by Oriol Esteve
2 ジェントルドラゴン/Gentle Dragon:作・小松英夫/by Hideo Komatsu
3 HJドラゴン/HJ Dragon:作・ジェイソン・クー/by Jason Ku
4 クラシカルドラゴン/Classical Dragon:作・勝田恭平/by Kyohei Katsuta
5 カレイジアスドラゴン/Courageous Dragon:作・結城伸吾/by Shingo Yuki
6 キングドラゴン/King Dragon:作・木村良寿/by Yoshihisa Kimura
7 ファイアリードラゴン/Fiery Dragon 2.0:作・ケイド・チャン/by Kade Chan
8 ヒュドラ/Hydra:作・井上岳哉/by Takaya Inoue
9 ふくよかドラゴン/Plumpy Dragon:作・萩原元/by Gen Hagiwara
10 ドラゴン デュ スュッド/Dragon du Sud:作・松田景吾/by Keigo Matsuda
11 魔法使いと竜/Wizard and Dragon:作・北條高史/by Takashi Hojyo
12 スマートドラゴン/Smart Dragon:作・大内康治/by Koji Ouchi
13 ワイバーン/Wyvern:作・宮本宙也/by Chuya Miyamoto
14 グランドドラゴン/Grand Dragon:作・ジョセフ・ウー/by Joseph Wu
15 エンシェントドラゴン/Ancient Dragon:作・神谷哲史/by Satoshi Kamiya