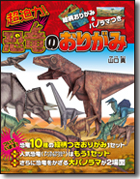 Cyohakuryoku! Kyoryu Origami
 Origami Dinosaur. Diagrams : 10 models, Printed paper : 24 sheets, and Display stage.
 Author:Yamaguchi Makoto
 Publisher:SEITOSHA (July 2008)
 Language : Japanese
 Size:182×232mm/ Page : 64 / All collor
 ISBN-10:4791615387
 ISBN-13:978-4791615384
*You can get autograph by Yamaguchi Makoto if you hope. Please contact us when you order.

This product already out of printed. The sale ends when all the stock is sold out.
---
---
---
We resume an international shipping by "Airmail" because still SAL shipping is suspending.
However, still some countries(USA, Canada, Australia etc...) has not accept Airmail items yet. so please confirm the following page whether your country accept the Airmail or not before ordering.
Service availability by country(Japan post)
---