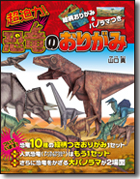 Cyohakuryoku! Kyoryu Origami
 Origami Dinosaur. Diagrams : 10 models, Printed paper : 24 sheets, and Display stage.
 Author:Yamaguchi Makoto
 Publisher:SEITOSHA (July 2008)
 Language : Japanese
 Size:182×232mm/ Page : 64 / All collor
 ISBN-10:4791615387
 ISBN-13:978-4791615384
*You can get autograph by Yamaguchi Makoto if you hope. Please contact us when you order.

This product already out of printed. The sale ends when all the stock is sold out.
---
---
First Zone (Asia) Click here for details
 Note: KOREA, TAIWAN is not accepting SAL
Airmail
JPY1,910
Shipping and Handling fee included.

Registered Airmail
JPY2,460
Shipping and Handling fee included.

SAL
JPY1,700
Shipping and Handling fee included.

Registered SAL
JPY2,250
Shipping and Handling fee included.
---
What is SAL? : SAL(Surface Air Lifted) is a service where international mail is handled as surface mail in both Japan and the destination country and as airmail between the two countries. The service is slower than Airmail mail, but the cost is lower than airmail.
Some country is not available SAL. Please check here Whether your country is accepting SAL.
SAL with Registered mail for the following countries is not available.
Australia, Greenland, Denmark, Germany, Norway, Hungary, Finland, and Poland.
If you order more then 2 books, The shipping fee is based on the weight of the books. so the shipping cost is same. But, if you wish to use registered option. we can send the books by 1 package. so, we need only 1 registered option.
The package without registered is not insured and it is not traceable.
We strongly recommend to choosing "Registered" if you have any worries about shipping.
We will not be held responsible if package is lost once shipped by the post office without being registered.
See to How to order for detail.
---