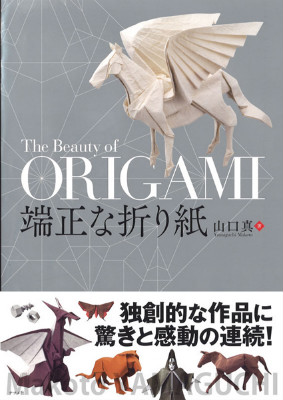 Tansei na Origami (The Beauty of Origami)
Diagams : 50 models by origami creators of all over the world.
 Author:Yamaguchi Makoto
 Publisher:Natsumesha Co.,LTD. (18th June 2015)
 Language : Japanese
 Size:184 X 234mm / Page : 268
 ISBN-10:4816358587
 ISBN-13:978-4816358586
*You can get autograph by Yamaguchi Makoto if you hope. Please contact us when you order.

---
---
---
We resume an international shipping by "Airmail" because still SAL shipping is suspending.
However, still some countries(USA, Canada, Australia etc...) has not accept Airmail items yet. so please confirm the following page whether your country accept the Airmail or not before ordering.
Service availability by country(Japan post)
---
Chapter 1 : Prehistoric Animals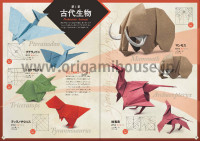 Triceratops by Yamaguchi makoto
Tyrannosaurus by Yamaguchi Makoto
Pteranodon by Yamaguchi Makoto
Mammoth by Yamaguchi Makoto
Archaeopteryx by Yamaguchi Makoto
---
Chapter 2 : Insects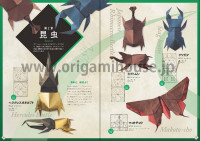 Japanese Rhinoceros Beetle by Yamaguchi makoto
Hercules Beetle by Yamaguchi makoto
Stag Beetle by Yamaguchi makoto
Makoto-cho by Michael G. LaFosse
---
Chapter 3 : Birds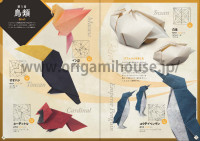 Macaw by Yamaguchi makoto
Toucan by Yamaguchi makoto
Cardinal by Roman Diaz
Swan by Tsuda Yoshio
Emperor Penguin by Quentin Trollip
---
Chapter 4 : Aquastic life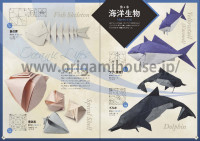 Fish Skeleton by Yamaguchi Makoto
Spiral Shell by Kawasaki Toshikazu
Yellowtail (Farmed) by Katsuta Kyohei
Dolphin by Kawahata Fumiaki
---
Chapter 5 : Small Animals
Boxlike Cat by Yamaguchi Makoto
Rabbit by Ronald Koh
Papillon by Komatsu Hideo
---
Chapter 6 : Large Animals
Leopard by Yamaguchi Makoto
Lion by David Brill
Horse by David Brill
Hippo by Robert J Lang
Giraffe by Hagiwara Gen
African Elephant by Miyamoto Chuya
---
Chapter 7 : Fantasy Creatures
Cerberus by Yamaguchi Makoto
Angry Fish by Bernie Peyton
Rabbit in Wonderland by Matsuda Keigo
Crane Humanoid by Sasade Shinji
Tri-Horned Dragon by Miyamoto Chuya
Northern Dragon by Hojyo Takashi
Grim Reaper by Miyajima Noboru
Pegasus by Kamiya Satoshi
---
A la Carte
Geta by Tsuda Yoshio
Makoto Rose by Yamaguchi Makoto
Boots by Yamaguchi Makoto
Book by Martin Wall
Clown by Nishikawa Seiji
Santa Claus Tetrahedron Box by Yamaguchi Makoto
Akabeko the Red Bull by Yamaguchi Makoto
Samurai Helmet by Yamaguchi Makoto
Mt. Fuji by Yamanashi Akiko
Key to Love by Francis Ow
Nut and Bolt by David Brill
---